– 2018/19 –
MODERN STRING QUARTET presents
THE RITE OF SWING
DUKE ELLINGTON – IGOR STRAVINSKY
THE RITE OF SWING
The African Stravinsky meets Igor Stravinsky
Ellington is characterized as an "African Stravinsky" who erased the color line between jazz and classical music. Stravinsky, a composer who was heavily inspired by Duke Ellington's music and who's music Ellington himself was an admirer of, frequently made use of jazz figures. He took jazz very seriously and went out, listened to it. When the ultramodern Russian composer visited New York in the 1950ties, the first thing he wanted to do was to chase up to Harlem and hear Duke Ellington's magnifique jazz symphonies at the Cotton Club."If music can be proved a neurotic influence then I´m certain you will find Stravinsky´s `The Rite of Spring` a great deal more exciting, emotionally, than a slow "rid" arrangement of `Body and Soul` or even a fast rendition go `Tiger Rag´" noticed Ellington. Stravinsky and Ellington were true to their own musical visions and both created new paths for all composers that have followed. They were assemblers who borrowed, incorporated and reharmonized music. And each relied on a close collaborator – Strayhorn for Ellington, Robert Craft for Stravinsky – to function as a composer. Most important, both were able to transform almost any available musical material through the power of an instantly recognizable style.
Why Jazz Musicians Love 'The Rite Of Spring'?
The love for Stravinsky was often pronounced, especially during and following the bebop generation. It was only a matter of time until the challenging, pulsing "Rite" was interpreted directly by jazz musicians. Charlie Parker is been documented quoting passages from "The Rite of Spring" and other Stravinsky works multiple times. John Coltrane says he enjoyed listening to Stravinsky as a kid, even though it wasn't anything like the other music he grew up with. A 100-year-old ballet, composed by a Russian for a French audience, has become something of a jazz standard. Igor Stravinsky's orchestral score for "The Rite of Spring" has been interpolated on record by musicians like Ornette Coleman. His "Sleep Talk" also borrows from the famous opening bassoon melody of The Rite. And The Bad Plus, of course, did the whole thing with a visual backdrop in 2011.
The Rite and jazz music at large can be seen as cousins. Roughly contemporaneous, both emerged in the 1910s, experienced their share of rejection and wound up among the most profoundly influential musical developments of the 20th century.
works:
Duke Ellington: Take the A-Train
Duke Ellington: Caravan
Duke Ellington: In a sentimental mood
Duke Ellington: It don't mean a thing, if it aint got that swing
Stevie Wonder: Sir Duke
Joerg Widmoser: hb.de (Happy Birthday Duke Ellington)
Igor Stravinsky: Le Sacre du printemps (excerpts)
Igor Stravinsky: Tango (1940)
Igor Stravinsky: Ragtime

– 2017/18 –
MODERN STRING QUARTET presents
BACK TO THE FUTURE
If you look back into the past century, it seems that the different music styles have continuously been coming closer and closer to each other, no matter what their origins are. Jazz musicians have improvised on themes by Bach while classical composers have experimented with the pulsating rhythms of the Afro-American music. From the beginning on, both sides have been driven by the intention to seek renewal in their music or, in other words, driven by the obsession to be avant-garde.
In BACK TO THE FUTURE terms such as composition and arrangement lose their distinctiveness while merging with each another. This is what leads to the question of originality and no longer of origin. The creative intermingling of  both music from the past and the present is nothing unusual for the MSQ. With their unique "tone" they create, at the same time, a new opus. While this process culminates from time to time, elements from jazz, classical, minimal as well as ethno music are driven through a cosmos of rhythmic stringency at the speed of light.
Ignition and lift off: BACK TO THE FUTURE is a trip into the past, the present and the future of music. And this music will arrive at where Duke Ellington had always wanted it to: at the right place, at the right time, with the right people.
Part I > VANGUARD
(1935) SUMMERTIME George Gershwin / arr. Joerg Widmoser
(2000) NIAGARA Andreas Höricht
(1981) AU LAIT Pat Metheny / arr. Andreas Höricht
(1964) CANTALOUPE ISLAND Herbie Hancock / arr. Winfried Zrenner
(2014) LUX 40 Joerg Widmoser / inspired by Tallis Spem in alium
Part II < RENAISSANCE
(1913) SACRE DU PRINTEMPS Part 2,3,4 Igor Strawinsky / arr: Winfried Zrenner
(1815) ERLKÖNIG Franz Schubert / arr: Winfried Zrenner
(1722) PRAELUDIUM/FUGE C-MOLL Joerg Widmoser / inspired by Bachs Welltempered Clavier
(1791) MOZART Andreas Höricht / inspired by Mozarts Requiem
(1797) HOT FEVER Joerg Widmoser / inspired by Beethovens Variations about Une fièvre brulant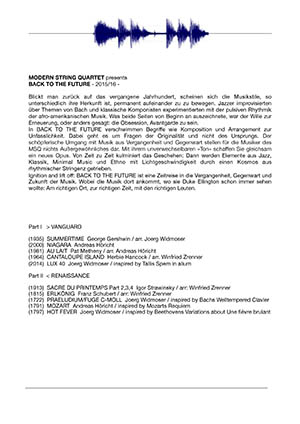 Programm – Back to the Future, Info als PDF-Datei

MODERN STRING QUARTET presents
J.S. BACH: THE WELL-TEMPERED CLAVIER, PART 1
(Arrangement for string quartet by Joerg Widmoser)
Joerg Widmoser, 1st violinist of the Modern String Quartet, has arranged the cycle of 24 preludes and fugues for string quartet creating the possibility of this tremendous work to be performed with this instrumentation for the first time in history.
The preludes (originally using only 2 or 3 voices on the piano) were transformed to a four voice score to perfectly match the sound possibilities of a string quartet. Especially the polyphonic structure of Bach's music becomes very clear with 4 instruments. The polyphony appears effortless and natural, due to, after all, the prudent work of Widmoser, which took him 5 years: only in some preludes the musical structure and rhythmic allocation are changed to suit the sound of the string quartet.
Praeludium 1, C-Dur, BWV 846
Fuga 1, a 4 Voci, C-Dur, BWV 846
Praeludium 2, c-Moll, BWV 847
Fuga 2, a 3 Voci, c-Moll, BWV 847
Praeludium 11, F-Dur, BWV 856
Fuga 11, a 3 Voci, F-Dur, BWV 856
Praeludium 12, f-Moll, BWV 857
Fuga 12, a 4 Voci, f-Moll, BWV 857
Praeludium 21, B-Dur, BWV 866
Fuga 21, a 3 Voci, B-Dur, BWV 866
Praeludium 8, es-Moll, BWV 853
Praeludium 7, Es-Dur, BWV 852
Praeludium 17, As-Dur, BWV 862
Fuga 18, a 4 Voci, gis-Moll, BWV 863
Praeludium 4, cis-Moll, BWV 849
Fuga 4, a 5 Voci, cis-Moll BWV 849
Praeludium 14, fis-Moll, BWV 859
Fuga 14, a 4 Voci, fis-Moll, BWV 859
Praeludium 24, h-Moll, BWV 869
Fuga 24, a 4 Voci, h-Moll, BWV 869
Praeludium 9, e-moll, BWV 855
Fuga 10, a 2 Voci, e-Moll BWV 855
Praeludium 20, a-Moll, BWV 865
Fuga 20, a 4 Voci, a-Moll, BWV 865
Praeludium 6, d-Moll, BWV 851
Fuga 5, a 4 Voci, D-Dur BWV 850
Praeludium 15, G-Dur, BWV 860
Fuga 15, a 3 Voci, G-Dur, BWV 860
Praeludium 16, g-moll, BWV 861
Fuga 16, a 4 Voci, g-moll, BWV 860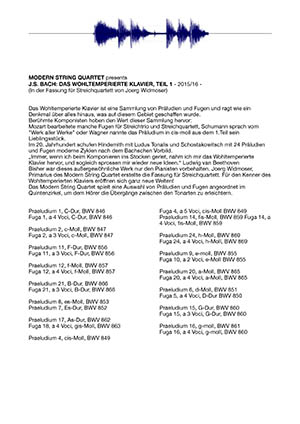 Programm – Das wohltemperierte Klavier, Info als PDF-Datei

MODERN STRING QUARTET presents
RHYTHM AND BLUES
Paris, 29. Mai 1913:
Unglaublicher Lärm erfüllt das Théatre des Champs-Elyses. Es kommt zu Handgreiflichkeiten, Ohrfeigen und Beleidigungen. Strawinsky flüchtet von seinem Platz in der fünften Reihe hinter die Kulissen. Als dann zu den Schlusstakten des "Sacre" die Gendarmerie eintrifft, ist er bereits durch ein Fenster hinter der Bühne geflüchtet und spaziert etwas derangiert und desillusioniert durch die Straßen von Paris – eines der revolutionärsten Werke in der Musikgeschichte beginnt mit einem Skandal.
New York 14. Oktober 1930
Unter Begeisterungsstürmen leitet George Gershwin am Dirigentenpult die Premiere seines Musicals "Girl Crazy", wo das Publikum die Geburtsstunde eines der meistgespielten Jazz- Standards "I Got Rhythm" erlebt. Die Hymne aller Jazzverrückten, I Got Rhythm und Le Sacre Du Printemps, Strawinskys visionäres Wunderwerk haben eines gemeinsam – der Rhythmus steht auf Augenhöhe mit Melodie und Harmonie. Diese beiden Schlüsselwerke der Klassik und des Jazz dienen als Bezugspunkte und sind unser Bekenntnis zum Rhythmus. Blues ist die Wurzel der amerikanischen schwarzen Musik des 20.Jahrhunderts.
I Got Rhythm – You Got Music – We ́ve Got the Blues
Le Sacre du Printemps" dient all jenen als Bezugspunkt, die für das, was Zeitgenössische Musik genannt wird, eine Geburtsurkunde ausstellen." BluPierrees Pierre Boulez
"Der Blues existiert, seit die Welt existiert und ist die Geschichte von Mann und Frau. Der Beginn der Welt. Adam und Eva im Paradies." John Lee Hooker
BLUES MARCH      Benny Golson / arr: Joerg Widmoser
MANTECA      John Birks 'Dizzy' Gillespie / arr: Winfried Zrenner
I GOT RHYTHM      George Gershwin / arr: Joerg Widmoser
PEACE      Horace Silver / arr: Joerg Widmoser
aus SACRE DU PRINTEMPS      Igor Stravinski / arr: Winfried Zrenner
MERCY MERCY MERCY      Joe Zawinul / arr: Joerg Widmoser
PAUSE
WHAT YOU HEAR IS WHAT YOU GET      Andreas Höricht
ALL BLUES      Miles Davis / arr: Joerg Widmoser
UNCLE FONK      Joerg Widmoser
SHE'S OUTRAGEOUS      Tanja Maria/ arr: Joerg Widmoser
CANTALOUPE ISLAND      Herbie Hancock / arr: Winfried Zrenner
FEVER      Elvis Presley / arr: Andreas Höricht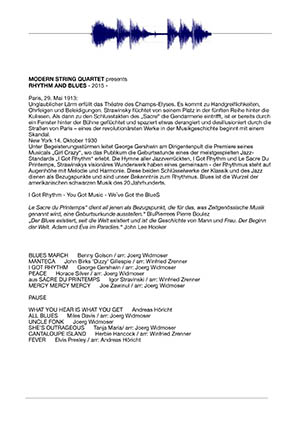 Programm – Rhythm and Blues, Info als PDF-Datei

– 2016/17 –
MODERN STRING QUARTET presents
WATERMUSIC
Herbie Hancock's music MAIDEN VOYAGE is a response of Jazz to Claude Debussy's LA MER. This   conceptual album qualified Hancock as the poetic Jazz composer of the sea: "The sea has often stirred the imagination of creative minds involved in all spheres of art."
The Modern String Quartet takes up this idea as a basis for inspiration. Rhythmic currents ride on the waves of the imaginative forces of Jazz, gaining a high quality of relaxation and exploring the Big Blue. During this expedition into the world of water, Haendel's WATER MUSIC gets into the center of a hurricane and is projected into the 21st century. We hear Debussy's harmonies enriched with BLUE NOTES. Mississippi, Amazonas and Niger – old black muddy waters keep on rollin´ in SUITE FOR A FLOATING MOOD until they find their way to the blue sea. In NIAGARA a quiet melodic line develops into falling cascades of tones. And even the dolphins are dancing at this party on CANTALOUPE ISLAND, while on board of Kurt Weills MY SHIP Cool Jazz with Gil Evans is reinvented, later Irving Berlin will ask HOW DEEP IS THE OCEAN?, and finally Miles Davis ALL BLUES shows the real meaning of the BLUE. The sounds of Steve Reich's IT´S GONNA RAIN on tape create an awareness for minuscule details.
In this work of water Blue is dominating. Water reacts very sensitively to musical waves. Artistic use of optical effects makes those phenomenal reflections of musical waves visible. Reflections of light flood the stage, on which the four musicians move at the speed of dripping rhythms. Water is made audible in a multiple way. The audience enjoys the seriosity and the leisure in a new fusion of classical and modern music.
Part I
DOLPHIN DANCE Herbie Hancock / arr. Joerg Widmoser
LA MER/REMIX Debussy/Zrenner
CANTALOUPE ISLAND Herbie Hancock/ Arr.: Winfried Zrenner
NIAGARA Andreas Höricht
MY SHIP Kurt Weill/ Arr.: Joerg Widmoser
SUITE FOR A FLOATING MOOD Joerg Widmoser
Part II
AN WASSERFLÜSSEN BABYLON J.S. Bach
AQUA MUSICA NOVA Händel/Höricht
HOW DEEP IS THE OCEAN Irving Berlin/ Arr.: Winfried Zrenner
WASSERSPIELE Joerg Widmoser
ALL BLUES Miles Davis/ Arr.:Joerg Widmoser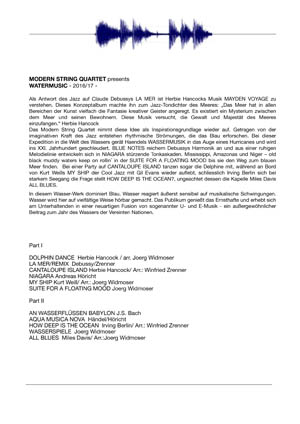 Programm – Watermusic, Info als PDF-Datei